Machine Monitoring Software and Hardware
(Click on thumbnail to enlarge)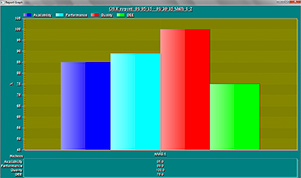 As a leading provider of DNC and machine monitoring solutions, at eNETDNC we can provide the data to help customers make more informed production management decisions. Operator log-ins, machine status, cycle times, and preventative maintenance information can be monitored in real-time and stored for export into Excel or Access for further analysis.
When a machine is down, the operator can be required to put in a code corresponding to a predetermined list of reasons. An alert can then be sent to specific distribution lists via e-mail or text message. For example, if the code for "out of material" is entered, a material handler can be alerted. If the code for "tool breakage" is entered, tool crib can be notified. Down codes and notification distribution can be customized according to each customer's application. Real time monitoring also tracks how often a machine is operating during a shift, holding operators accountable for their production rates. By requiring operators to log in to the machine, management can more accurately track labor costs for a given part number or machine cycle.
Software easily interfaces with existing networking systems and runs on all versions of Microsoft Windows. Front office personnel and floor management can access a dashboard that provides a snapshot of the shop floor including machine status and current cycle time. These dashboards provide a valuable tool for management to supervise machines and personnel through a central hub. For more information about our machine monitoring solutions, see the table below, or contact us directly.
CNC Machine Monitoring Software and Hardware Specifications:
Product Name

CNC Machine Monitoring Solutions
Function

Real-Time Monitoring of CNC & Manual Machinery
Hardware Features

Industrial Grade Components
Standard Cat-5 Cabling

Surge Protection Up to 20 kV
Made in the USA
Software Features

Based on Standard 802.11 Ethernet
Plant-wide Accessibility
Tapered User Access Capabilities
Real-Time Monitoring

Automated Notification/Alert System
Compatible with All Brands of CNC Machinery
Compatible with Standard Network Security
Preventative Maintenance Tracking
Language

C++
Operation System Compatibility

All 32-Bit Microsoft Windows Systems
All 64-Bit Microsoft Windows Systems
Windows 98
Windows NT
Windows 2000

Windows XP
Windows Vista
Windows 7
Windows 8
Benefits

Increased Production Efficiency
Data Acquisition on Machine Status

Operator Accountability
Additional Information
Industry Focus

Machine Shops
Tool & Die Shops

Manufacturing
OEM