Data Collection Software and Hardware
(Click on thumbnail to enlarge)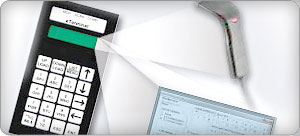 Data collection for the purposes of historical accuracy and security are imperative in industry today. At eNETDNC, we specialize in data collection from CNC and manual machinery at tool and die shops, machine shops and manufacturing facilities. Our system communicates directly with the machine and integrates with most client ERP systems providing data on jobs, part quantities, maintenance schedules and much more.
We will install systems that are compatible with all brands of CNC and manually controlled machinery using industrial grade components that are accessible from any part of the plant. The installed network provides features such as real-time monitoring, automated notification and alerts with network security protocols as standard in addition to many others. Power protection is also a consideration and we protect our system with up to 20kv surge protection, with system communication that is based on standard 802.11 Ethernet protocols.
Improved accuracy, operator accountability and increased production efficiency are just a few of the benefits that are achieved with this cost effective solution. We provide a single network solution often eliminating multiple duplicate systems.
Compatible with any 32 and 64 bit Windows operating systems and using C++, a robust programming language, the system is completely customizable, incorporating, for example, optional bar code scanners and the addition of extra data inputs if required.
eNETDNC can simplify and make your data collection more effective. contact us or see the table below for a more detailed description of our services.
Data Collection Software and Hardware Specifications:
Product Name

eNETDNC Data Collection
Function

Data Collection from CNC & Manual Machinery
Communicates Job-Related Information Directly from the Machine Control
Hardware Features


(eTERMINAL Addition)

Industrial Grade Components
Standard Cat-5 Cabling
Surge Protection Up to 20 kV

Made in the USA
Bar Code Scanner (optional)
Customizable
Software Features

Easily Integrates with most Client ERP Systems
Based on Standard 802.11 Ethernet
Plant-wide Accessibility
Tapered User Access Capabilities
Real-Time Monitoring

Automated Notification/Alert System
Compatible with All Brands of CNC and Manual Controls
Compatible with Standard Network Security
Automated File Compare
Add-ons (Addition of any Data Inputs)
Inputs Examples

Employee Number
Job Number
Set-up Time
Production Time
Accurate Part Quantities

Scrap Parts
Scrap Codes
Maintenance Scheduling
Material Parts
Maintenance Parts (Ex. Oil)
Language

C++
Operation System Compatibility

All 32-Bit Microsoft Windows Systems
All 64-Bit Microsoft Windows Systems
Windows 98
Windows NT
Windows 2000

Windows XP
Windows Vista
Windows 7
Windows 8
Benefits

Increased Production Efficiency
Data Acquisition on Machine Status
Operator Accountability
Improves Accuracy
Captures Real World Data
Expanded to Support Unlimited Number of Machines Supports all CNC Machine Control Types
Eliminates the need for Duplicate Systems Wired Throughout the Shop
Eliminates the need for Expensive Centralized Computer or Data Collection Stations on the Shop Floor
Customizable ( Addition of any Data ) inclusion of Client Suggestions
Configurable to any Shop Management or ERP System
Additional Information
Industry Focus

Machine Shops
Tool & Die Shops

Manufacturing
OEM